Shahi Qila and Its Breathtaking Monuments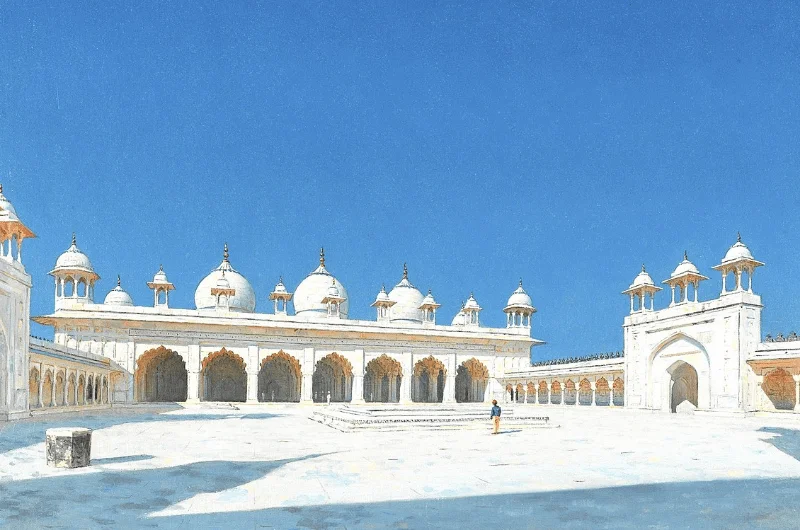 Lahore-the city with different aspects of fascination. It is a symbol of beauty on earth having lit night life and zestful mornings. The spirit of Pakistani culture and heritage is reflected from every place of Lahore. Lahore has preserved the historical grandeur as no other city has.
Interesting fact about Shahi Qila:
The best example of preserved historical grandeur is "Shahi Qila" or "Lahore Fort". It is a true demonstration of the royal era of Mughals, Sikhs and colonial rulers. The interesting fact about Shahi Qila is that the builder of this mega structure is still unknown.
Wondering what is so special that has made this place an attraction spot for tourists? Well, the reason is its beautiful surroundings. Let's make a tour of all the famous places in this post. So follow till the end.
History:
The history of Shahi Qila goes back to 1550s at the time of emperor Akbar (1556-1605) to Aurangzeb (1658-1707). It is located in the North-West of the city that is spread 427 meters east-west and 335 meters north-south. The south-east area occupied Akbar's court. The northern area is distributed into six compartments starting from Akbari Gate to Shish Mahal. In 1981 UNESCO enlisted Lahore Fort as World Heritage Sites.
Surroundings:
The entrance gate of Shahi Qila is in front of Badshahi Mosque and is known as "Alamgiri Gate". You have to pay a few pennies while entering this gate. It is made up of red bricks. While entering from the gate you can see the lavish garden with a cafeteria and parking.
Remarkable buildings and Structures
Some of the attractions of Shahi Qila include:
Akbari Gate.
Alamgiri Gate.
Diwaan e Aam.
Jahangir's Quadrangle.
Diwaan e Khas.
Khwabgaah.
Moti Masjid.
Lal Burj.
Kala Burj.
Shahi Hammam.
Paien Baagh.
Hathi Paer.
Khilwat Khana.
Ath Darra.
Shish Mahal.
Bangla Naulakha.
Pictured Wall.
Akbari Gate:
Akbari Gate was built by Akbar. It was called as Maseet afterward. In 1614 AD Akbar's empress built a mosque in front of this gate.
Alamgiri Gate:
Alamgiri Gate was built by Aurangzeb Alamgir. It opens in Hazuri Bagh and is on the west of fortification wall. This gate is a symbolization of strength with the design of lotus petals.
Diwaan e Aam:
Diwaan e Aam is a hall for the public. Shah Jahan in his reign decided to build a majestic hall for the public with forty pillars. The public put up their problems in front of the king at this hall. It was later destroyed when Sher Singh attacked Lahore Fort with light guns. Then, British rulers re-built it in 1849 A.D. The marble work done on its balcony is the oldest of its times.
Jahangir's Quadrangle:
The next monument is Jahangir's Quadrangle that was initiated by Akbar but Jahangir completed it. At that time it cost seven lac rupees. Its architecture is very similar to the temples of Hindus. On the east-west rows, it is enriched with red stones with carved brackets of animals. It shows Hindu art and culture. In the center, lies Jahangir's sleeping room. In quadrangle, there is a garden with Mahtabi which was used for the performances of dancing girls.
Diwaan e Khaas:
Diwaan e Khaas was built by Shah Jahan for entertaining special people. It is just like an arched pavilion designed by chaste marble. Its parapet was constructed by laying precious stones in white marbles. Its design represents the skill and talent of designers. In the center, the cistern foundation increases the royal grandeur.
Khawaabgaah:
Khwaabgaah or sleeping chamber was built for Shah Jahan by Wazir Khan. It lies on the South of Shah Jahan's quadrangle. It has five chambers laid in pure white marbles.
The main feature that attracts tourists towards this Khwaabgah is the stucco tracery on its arches. On the interior, fresco paintings are done.
Moti Masjid:
Moti masjid means a mosque having pearls. It was covered fully with white marbles. Gemstones were carved to decorate it. Later, Sikh used it as their temple. Then it was revived. It is near Almgiri gate.
Lal Burj:
Lal Burj is opposite to diwaan e khaas and is a triple storied pavilion. They are a true example of Mughal's beautiful architecture. The interior has fresco paintings with an exterior designed with tiles and filigree work.
Shish Mahal:
Shish Mahal lies in the north of fort. It comes in the wonders done by Mughals. The palace has a haram with chambers decorated with tendril patterns.
Its most versatile features are convex glass mosaic work, stucco tracery, pure gold, and marble perforated screens. Sang-e-Musa adds beauty to its structure. In the center of Mahal is a water fountain with four channels.
Amazed by reading only? Imagine what will be the scenes when you actually visit these locations. There is even more to go. So, do give a visit to Lahore Fort when you plan to come to Lahore.