Shah Rukn-e-Alam Tomb- The Earliest Example of Tughluk Architecture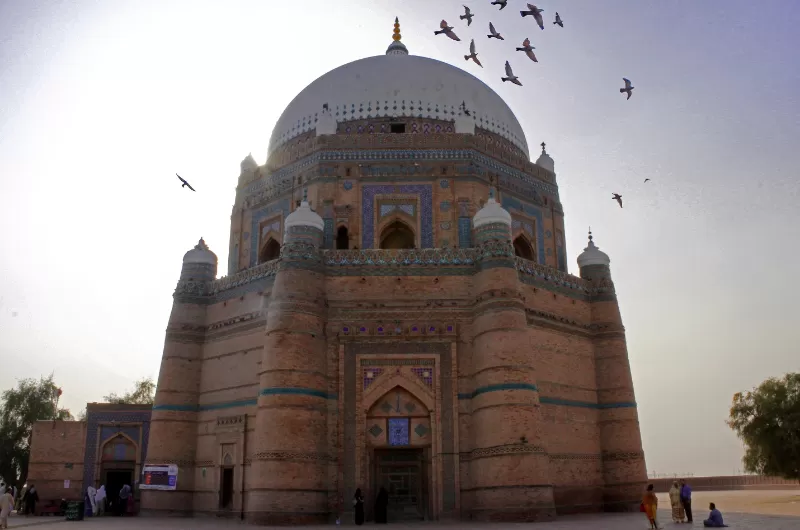 Islam is a beautiful religion that preserves the names of all those great people who serve humanity. The most widely used way to honor their efforts is by building their shrines. People visit and pay homage as a remembrance of great deeds. Multan is known to be a hub of such places (tombs) comprising more than 10 thousand shrines.
A great saint of history:
History has seen a great saint of all times in the sub-continent who did so much for the preaching of Islam that people gave him the title of "Pillar of the world". How is it possible that such a great man is not honored with a tomb? Well, the shrine of Shah Rukn-e-Alam is known to be the most attractive among many shrines of Multan.
Location:
Where can be beautiful shrines located? Undoubtedly in Multan! Shah Rukn-e-Alam's tomb lies next to Multan Fort in Multan.
History:
The greatest example of Mughal Architecture was the tomb of Shah Rukn-e-Alam built in 1324 CE. Initially, Shah Rukn-e-Alam was buried in the shrine of Bahaudin Zakariya and then shifted to the present place. This new tomb is a gift of Mughal emperor Muhammad bin Tughlak.
Suhrawadi-styled tomb:
This shrine is a suhrawadi-styled tomb having three giant entrances. A mihrab is in the west and a main entrance in the south. The alignment is towards the Mecca following orthodox beliefs.
Three-tiered structure:
The whole building is built as a three-tiered structure giving a typical Multani architecture look. The octagon dome gives it a close resemblance to the shrine of Bahaudin Zakariya.
The timber is beautifully used in its first-tier that is 15 meters in diameter. The small minarets increase the beauty of the whole structure.
The second octagon has eight antique-style corners. The last tier lies just above that providing full support to this masterpiece. The whole structure comprises the length of 35 meters with a Hindu temple styled dome.
Architecture:
The most captivating thing about this tomb is its mixed architecture of foreign and native style. It has a great influence of Persian and Afghani style.
The red bricks decorated with shisham wood are enough to make the spectators spell-bound. The exterior design is built with carved ornaments, rare wood, and battlements. Some expensive stones are also carved showing the true representation of the Mughal style. The floral tiles used in its exterior are worth seeing that attracts many tourists.
The internal verandah can accommodate thousands of devotees very easily.
An attraction hub:
Undoubtedly, this shrine is a place of honor to all the devotees of Sunni sect who come from far-off places just to pay homage. But, another best thing is that its beautiful architecture and exterior invites some tourists also. It keeps the money in rotation for the poor persons.
You can get free food from here twice a day without any money. Isn't it amazing? Can you even name such places in the world? You hardly can but it is quite possible in the shrine of Shah Rukn-e-Alam that shouts for its importance.
Preservation:
Pakistani government takes special care to preserve this monument of Pakistan. All I can say is that this place is worth seeing, for sure.