Katpana Desert-Cold Desert Skardu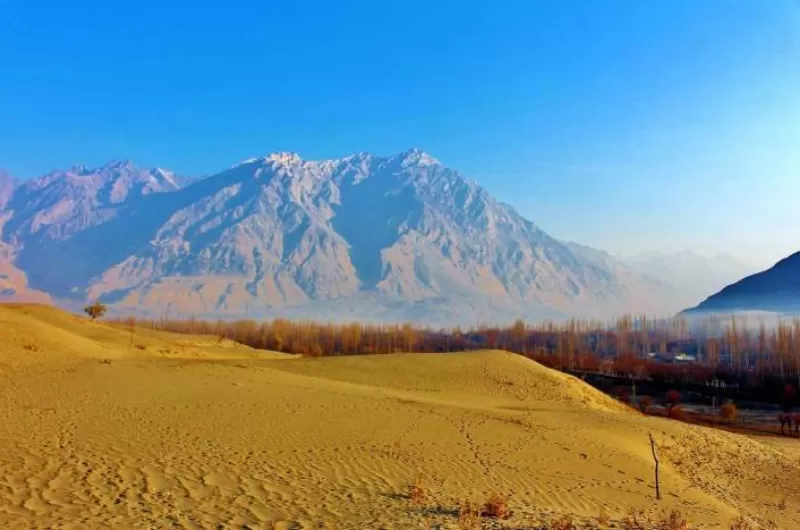 Deserts!!!! Hot, scorching and pinching. We don't like deserts much due to its scarce resources, dryness and sand dunes.
But, we all like cold deserts with blue skies, strong winds, and white granules. Wait! What? There are no such deserts and you must be thinking that I am mad. Well, I am not. There exists such creation of God by the name of "Katpana Desert" in Skardu which is a cold desert.
Excited to know about that? Lets' start.
World's highest desert
Katapana Desert is the world's highest desert in Skardu, Gilgit Baltistan. The high sand dunes of Katpana has given it the name of the cold desert. As you move from West Pakistan to North the topography is very pleasing with the colors of the lush plantation, giant mountains, rocky plains, flowing, curvy streams, waterfalls, cloudy skies, and picturesque landscapes.
I know this combination is rare to find everywhere but is still expected. What is really unexpecting then? It is the high desert on the top of mountains. God has blessed this wonder only to Pakistan.
Surprising Dunes
The North of Pakistan is full of surprises but the katapna desert has stunned the visitors with its high altitude and strong winds hitting the dunes hard. The granules of sand in Katpana desert are white, not yellow which has marked this desert as a wonder on earth.
When the sun shines on these granules, they seem like pearls. People who see this desert once are mesmerized by its beauty and wish to see it again and again. Don't trust it? Visit it yourself and get hypnotized by its ravishing beauty.
Location
Katpana desert is spread widely from Khaplu depression to Nubra, Ladakh, Shikar, Skardu, and Zanskar in occupied Kashmir. Its biggest region is located in Skardu and Shigar also famous as Biana Naqpo and katpana Biana according to locals.
The sand dunes keep on shifting due to strong winds. This place has a very strong and strange fascination of people due to unique weather and high altitude.
Surroundings
The katpana desert is a high place at an elevation of 303 meters. It is surrounded by blackish grey rocky mountains, suburbs and bushes. The whole scene is very strange and miraculous to see. It will give you goosebumps to see revitalizing and dry creations at the same place. It will seem no more than a dream if you haven't visited this place before.
The adventure and nature lovers who go to Africa and Europe in search of miraculous places are highly recommended to visit this natural wonder of God.
Weather Conditions
Just like this unique desert, its weather is also very unique. This stunning cold desert has mesmerizingly cold nights and sandy views that insists the travelers visit it. It is marked as the top best deserts of the world to visit.
It has also lush plantation and vegetation. Its temperature is on the average of 8 degree Celsius to 26 degree Celsius in October which falls to -10 degree Celsius in December to January.
Its temperature can sometimes decrease to extreme low as -25 degree Celsius making it colder than any hill station.
A desert- colder than a mountain! Funny and interesting at the same time.
How to reach there?
There are two ways to reach Skardu. You can go by road or even by air as its airdrome is functional now.
If you really want to enjoy the beauty of this place and stunning scenery encountered during its journey then I suggest you take by road journey.
It will take two days to reach Skardu but these two days are going to be memorable for the whole life. The tracks are very beautiful and comfortable to go.
To witness each and every beauty, visit Skardu in summers rather than winters. It will save you from extreme weather conditions and the inability to explore each and every place.
Have a safe journey!