Jhelum Valley (Azaad Kashmir)- The Land of Beauty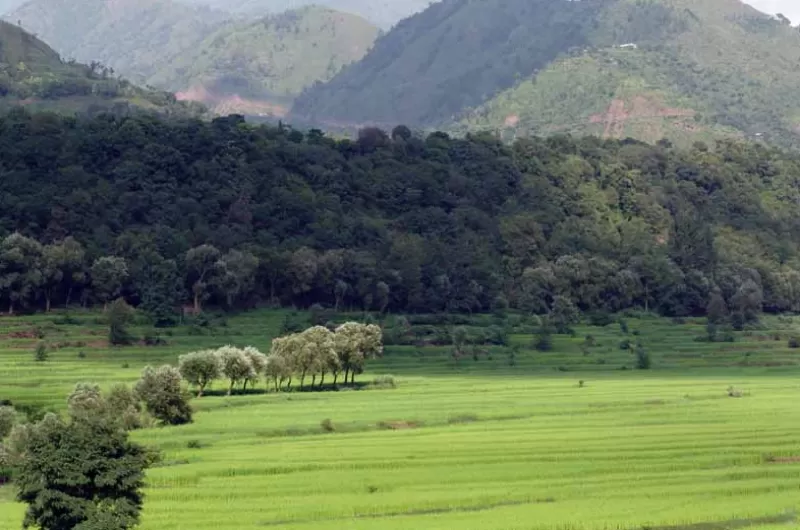 Tired of daily routine? Summers are bothering you badly? Want to escape from scorching heat days? I get your all worries done in the best economical way.
So many questions and only one answer "Jhelum valley", the ideal place to get away from worries. This is the valley from which the river Jhelum passes through the center. The river then joins with river Neelum near Muzaffarabad.
Jhelum valley is equipped with the most beautiful destinations to visit. You will get a bird's eye view of all those destinations in my post. So be ready for a virtual tour of some exotic places at Jhelum valley.
Location:
Jhelum valley is along 59 Km long road running across Jhelum river from Muzaffarabad to Chokothi. Buses and vans can easily take you to this location.
The valley is a perfect fit for national and international tourism.
The Attraction spots:
It is believed that the first land emerged after the flood of Noah is Kashmir. It involves a lot of attraction spots that show seamless beauty. They are as follows:
Gharri Dopatta:
Gharri Dopatta is located 24 KM away from Muzaffarabad. On both sides of river, Jhelum is a town surrounded by mountains. It is a very beautiful place with pure air, green grass, and lush environment. People strive to live in such place as it is extremely beautiful and equipped with all facilities like:
Education.
Medical treatment.
Telephonic service.
Accommodation.
Shopping Facility.
If you are planning a visit to Jhelum valley feel easy as you will have all the basic facilities.
Chinnari is a very scenic place situated at a distance of 64 KM from Muzaffarabad. This place is surrounded by high hills and mesmerizing greenery. Chinarri is on the left side of Jhelum River. This place is famous for the production of fruits like apricots, apples, and walnuts.
It is equipped with all basic facilities like:
Market.
Hospital.
Education center.
Post Office.
Bank.
Telephonic Services.
The highest point of Jhelum valley is the Chamm. The heavy waterfall and its lake is the best attraction spot forcing us to visit Kashmir.
Its beauty looks as if you are watching a Hollywood movie. The scenic beauty of Chamm is mesmerizing. Just visit it once and you hardly want to come back.
Chikaar is considered as the most beautiful summer station located on the top of mountains, 46 KM away from Muzaffarabad. This place is now grown into a large town. The fascinating features, healthy environment and picturesque surrounding make it the best tourist attraction spot from all over the world. The best thing about Chikaar is that you can get a glimpse of all sub-valleys from its top.
Chikaar is the best destination for your vacations as it has all facilities like:
Market.
Hospital.
Educational center.
Post Office.
Bank.
Telephonic Services.
If you move 10 KM forward from Chikaar there is another worth watching hill station at an altitude of 2011 meters above sea level. This area is inside thick and dense alpine trees.
The whole aura at Loon Bagla is very soothing to the eyes.
If you are going through the depressing days of your life then I suggest you visit this area. Its lush greenery will heal your mental illness.
Healthy climate and alluring scenic beauty make Danna the next attraction spot for tourists in Azad Kashmir. The place is very fascinating and covered in beauty from all over.
Moving 5KM ahead of Loon Bangla, is another beautiful point, Dungian. It is surrounded by Fir forests which makes it the best hub for experimentation on natural herbs.
Besides vacation, if you haven't witnessed medicines making from herbs then do visit this place and enjoy.
Conclusion:
Jhelum Valley is the beauty hub full of green lands and dense trees. It is the tourist's spot if you are interested in watching some worthy places.