Do Darya-Paradise for Foodies in Karachi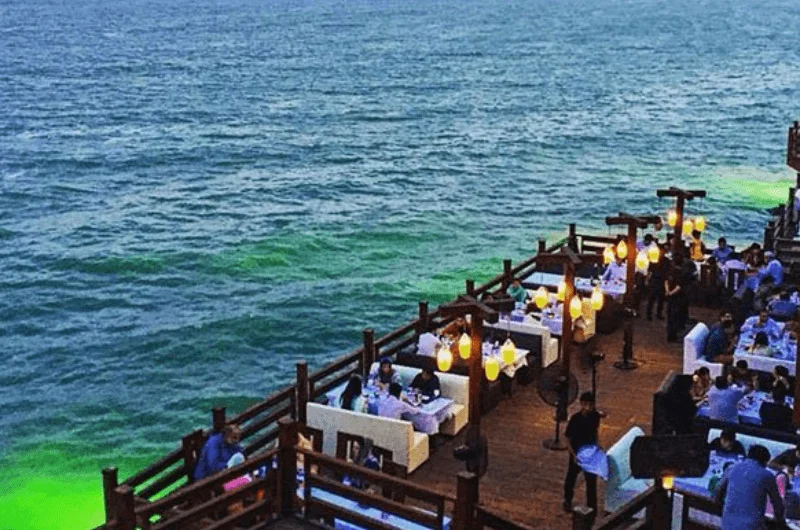 Karachi has a large number of scenic views. There is hardly any facilitation which is not present in Karachi. Karachi is number one in terms of food, ambiance, entertainment, and fun.
But the most worth mentioning and beautiful scenic place of Karachi is "Do Darya". The restaurants along the Arabian Sea shore are to die for. The location is beyond words, perfect and fantastic. Karachiites go crazy for dining in these beautiful food points along the seashore.
Well, judge it yourself, what will be the feel of dining with your loved ones at a breezy area, with soft music, dim lights, great food and waves hitting hard. Just imagine! and I'm sure you will go crazy to get into such an exotic place. Isn't it?
Do Darya a famous dining spot:
Do Darya is a very famous and lovable spot of not only Karchiites but whole Pakistan even when this phase was not this much established. People visit this lush place for a number of reasons like some visit here to enjoy cool breeze under moonlight and seashore while some come to dip in the dripping beauty of water. Some hobby fishers can also be seen at times, sitting and waiting for fishes to hunt.
The whole aura is so much mesmerizing to dine in with family and friends.
Location:
The location is perfect for lunch and dinner at Seaview Road near Macdonald's. The location is 2.5 kilometers deep with a number of famous restaurants lying along.
The main outlets:
The beauty of this place forced a number of restaurants to move here. The Al- Habibi restaurant opened here in the 90s era as the first restaurant. Then, it attracted a number of restaurants too. Now, there is hardly any restaurant whose outlet is not present in this locality.
Some of them are:
Noorani Katakat
Afridi Inn
Desi Hut
Ambala Corniche
Al Habib Restaurant
Hot Bite
Creek Inn
Al Rehmat BBQ
Kababjees
River Side
Nawab Darbar
Cafe Echoes
And, a lot more.
The most desired Cruise Ride:
Cruise Ride in Pakistan? Seriously? Yes, it is true you can enjoy cruise ride here in the Arabian Sea.
Savor offers cruise ride which is located on Defence Authority Country and Golf Club, Zulfiqar Street No.1.
The food is served here on the cruise in the middle of the sea. The taste will get hundreds of times more when you dine under the dim light of the moon, cool breeze, and tangling waves.
Isn't it worth the all hype? Yes, it can make your day.
What to do after dinner?
Done with the food at an exotic cruise? Great! This is not the end. There is much more to go for fun.
After dinner, you can go to the movie at Universal Cineplex with your family to fully enjoy the weekend. It is very near to Seaview road and Khayaban-e-Ittihad.
Universal Cineplex further comprises of five cinema halls with a huge hall for the dining facility. The place is open 24x7 for families and couples. If you haven't eaten enough at sea view then enjoy your popcorns at the cinema.
Some other cinemas are opening soon here.
Why Visit Do Darya?
There were mentioned a lot of reasons for visiting Do Darya. If you are still unsure why you should visit this place then consider the fact that: this place's open environment and fresh air is a relief from constant depression and worries of life.
Conclusion:
Just visit "Do Darya" once and you will be agreed that it is the most beautiful place in Karachi. You will forget about all foreign trips and wish to visit this beautiful place again and again.