The Arena Hotel One of the Megalithic Project in DHA Multan
Informative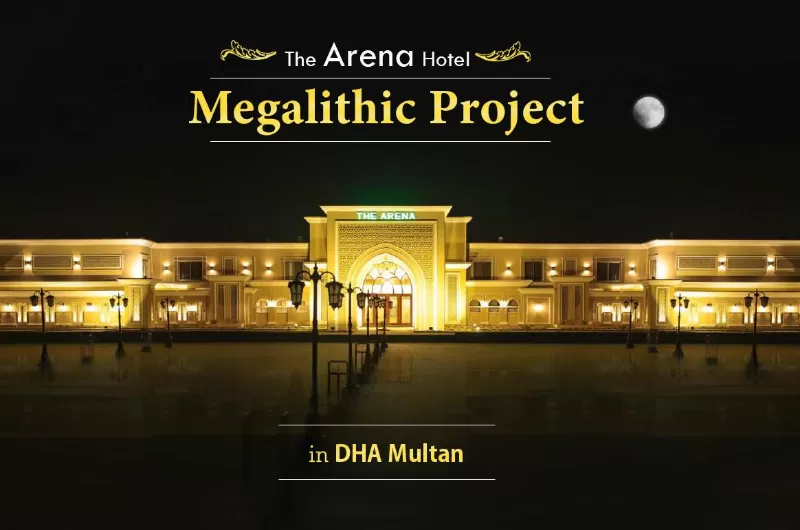 Tue 23, July 2019

Informative
After years of success, DHA has come up with another amazing project in Multan 'The Arena Hotel'. It is a super-luxury hotel in DHA Multan fulfilling all the high-end demands and eliminating the financial issues. It is all aimed to provide grand luxury and comfort in an affordable budget.
Without overthinking about the budget, our clients can avail the facilities of:
· Executive suite rooms.
· Luxury executive rooms.
· A proper setup of the luxury restaurant.
· A pillar-less banquet hall up to 3000pax capacity.
· A conference room with executive setup
· A board room.
· Bridal and casual makeup rooms.
· A proper covered and shaded vehicle parking for up to 300 cars.
The best thing about 'The Arena Hotel' is that you can get a glimpse of high-end luxury hotel and area for residential events in extremely affordable prices. There is no need to compromise on quality with this biggest initiative of DHA Multan.
Considering these facts, Imran Rajput the Chief Executive Officer said," It gives me immense pleasure to proudly introduce The Arena Hotel. As a Hotel, we have gathered a very professional and committed team to administer Hospitality services for our esteemed clients. We exactly know about the needs of the corporate sector and of an individual in terms of hospitality and leisure and have a great deal of confidence in the art of delivering the best services to both in a city like Multan.
''We exactly know about the needs of the

corporate sector and of an individual in

terms of hospitality and leisure''
The Arena Hotel stands as one, amongst the exceptional few, who have distinguished its services by demonstrating a deeper understanding of the culture of Southern Punjab. Since its inception, the hotel has consistently delivered service that has made its guests feel comfortable in its larger than life ambiance. In a highly competitive Industry of hotels in Multan, 'The Arena Hotel' has defined and enforced humility, warmth, and kindness as the characteristic signature of the hotel."
Mr. Qaiser Farooq GM Sales and Marketing was of the view that, "As a sales manager I have to deal with a lot of people and many of them ask me about the success factors of DHA Arena and at this opening of a grand luxury initiative.
Their happiness is OUR's responsibility and

this thought has compelled us to start

'The Arena Hotel'
I would like to tell you the answer I used to give to all such people and that is our work is only for our clients. We make the best possibilities to know the needs of our customers and then we blend all the emotions in our work. Their happiness is OUR's responsibility and this thought has compelled us to start 'The Arena Hotel'. We have blended the experience with quality. Our goal lies in making our clients happy. I don't force you to trust my words but contact me and I will feel honoured to share the long list of references of our happy clients."